This post attempts to analyse and discuss some aspects of Tony's revelations about Trevor Lloyd-Hughes [42]  TLH 2 Trevor Lloyd Hughes, Met Police. Corrupt….yes absolutely. Gay…that too.
It is the third in the series following
TLH 1 – Trevor Lloyd-Hughes, Met Police. Summary of Information [43]  

TLH 2 Trevor Lloyd Hughes, Met Police. Corrupt….yes absolutely. Gay…that too. [42] 
Tony's story already is making waves, and connections are being made. It throws light onto several topics
TLH  gay/ bisexual
TLH corruption
TLH and secret cameras
TLH and Operation Circus
Michael Fagan, Buckingham Palace break in, Trestrail resignation
Lloyd Hughes's relationship with Martin Allen who later disappeared
Kray twins, Blunt, Michael Lewis, Dolphin Court, MI5 connection,
So what does Tony's evidence add to the knowledge of Trevor Lloyd-Hughes and other incidents?
The parts that are from Tony's story are in italics for clarity.
TLH
Gay/ Bisexual
Just from the sexual assault on Tony, Lloyd-Hughes was definitely gay or bisexual, despite what his wife said at the Press Council in 1987. Press Council Complaint Annual Report of Press Council  [2]
It indicates that TLH could have been living a double life and his wife had no knowledge of his gay side. It could also indicate that his wife, in the Press Council Hearing was protecting him, his reputation and her pension. This may have been in line with the Police desire to protect their own reputation.
Not only could Lloyd-Hughes whilst a policeman, have been committing criminal offences with men under 21, as the law was then in the 70's and 80's [44] but Tony suspects him of being into boys several years younger than that.
Lloyd Hughes also knew that what he did with Tony was wrong…
He stopped undressing me and I left immediately and didn't hear from him for a long time. When he eventually called me he sounded very shaken. He asked me if I had reported the incident to the police and I said no I hadn't. He asked if I had spoken to anyone about it and I again said no and told him to stop phoning me or I would actually report him. I hung up before he could say anymore and learned a bit later that he had died.
He was favouring boys he liked and had a sexual interest in, and bending the law and police procedure to do so.
I know that several times boys who he had an interest in had been arrested by police and Trevor had arranged to "take care" of the arrest and ultimately got them released by saying they were assisting C-11 in their investigations. This may have been the case but I'd bet real money it was a lie and then the boys owed him. [22]
To "take care" of the arrest of TLH's favoured boys could have meant installing them as informants. Even to do that would have been immoral in itself if he had a sexual interest in them, and not applying the law without fear or favour, but it also may have involved deleting information from the police computer which would be illegal.
TLH's scam sounds very similar to what the anticorruption police were investigating, and it was of course reported by NOTW that they were investigating links between gay officers and a private investigations firm and a gay sex for secrets scandal involving the police national computer, as well as Lloyd-Hughes in this.  News of the World Scandal Of Top Cop And Rent Boys [1]
TLH was also vice chair of Met Police Football Club [1]
TLH ran Met Police boys football club in South London [to be verified]
Did he have access to young males at either of these?
TLH and Secret Cameras
Secret Cameras in House in Ealing
I had now left the original studio and had moved on to a better job within TV and knowing that he asked me if I could get hold of some very small cameras for use on a police job he was doing. I actually had an interest in the small surveillance type cameras for use on train sets and said that I could indeed help him. TLH said he wanted to bring me "on-board" with the police as a "contractor" and he would be able to get me some pay for working for the police. I thought this would be great and might even lead to a full-time job. I supplied him with a couple of cameras and didn't hear from him for a few days.
When he called me again he told me that he needed me to install the cameras myself. It suddenly dawned on me that surely C-11 must have their own technicians who already did this kind of thing. Why was I being asked to do this?
My suspicions were further aroused when I was taken to the house where he wanted the cameras fitted and seemed to have full access to the property which I think was in the Ealing area. The area where I fitted the cameras was in the bedroom and both faced the bed which I thought was very suspicious. He got me to hide one in a speaker and the other was in a cupboard.
As he was a fairly high ranking police officer I accepted this was official police business but I was left wondering.
Whose was the house in Ealing that was secretly filmed?
Why was it arranged to film the bed?
Were the secret cameras put their on behalf of himself, the Met Police, MI5 or someone else
Secret Cameras Installation in Heaven – gay nightclub
On the next job he wanted me to fit cameras at a gay night club called Heaven in central London. I told him I needed to see exactly where they would have to go and so he took me to the venue where something strange happened.
The place was closed to the public as it was around midday but when we got there he was spotted by another man who was very obviously gay and very obviously acquainted with Trevor and tried to talk to him. Trevor almost launched at this guy and seemed to be caught completely off guard. He told him not to speak to him, pushed him away quite violently and seemed highly embarrassed that I had seen this.
I asked Trevor what it was all about but he ignored me and told me the job had suddenly been cancelled. He took me back to my flat and I didn't see or hear from him for several weeks. He seemed very annoyed and upset. Almost like his cover had been blown.
Did Heaven know that he was installing secret cameras at their venue?
Was it sanctioned by Heaven themselves and if so what were they told it was for?
Did TLH manage to install them in Heaven on another occasion?
Was this a TLH operation on his own, did Police sanctioned it or even MI5 ?
What purposes were the cameras for –  for sexual purposes or blackmail purposes?
How many other places and where did Lloyd-Hughes use secret cameras?
There is a possibility that if you were in Heaven in late 70s or 80s that you may have been filmed by secret cameras.
The Groucho Club also had secret cameras, which the police did not investigate properly and seem to have covered up see Groucho Club and Child Sexual Abuse [13]
Did Police refuse to investigate properly because they or MI5 was involved?
Is this filming a regular tactic for the Police and Intelligence services to trawl for information for blackmail purposes?
Operation Circus and Police anti Corruption Squad investigation
The Mail claims that Lloyd-Hughes was leader of an Operation, which appears to be Operation Circus.  Scotland Yard detective: I was told to ignore 'meat rack' VIPs during paedophile probe [5]
It also quotes former Chief Inspector Howard Groves, who  was investigating a West End paedophile ring with alleged links to MPs and TV stars in the 1980s as saying "The command not to investigate establishment figures was relayed by a senior officer and I believe must have come from Lloyd-Hughes."
If this was Operation Circus then to be gay/bisexual raises issues of conflict of interest when the Operation was an investigation into homosexual involvement in child abuse at Piccadilly Circus, especially at a time when being gay, due to differences in the law between heterosexuality and homosexuality you were in a clandestine club.
TLH not only could have been committing offences, as a high ranking policeman, with men under 21 as the law was then but possibly under 16 as the law is today.[44]
If he was gay or "secretly" gay then this was a blackmail risk.  Blackmail risk is not only by foreign governments as people may surmise but also at risk of blackmail, subtle or otherwise by MI5, other sections or individuals in the police, or even politicians. Is this why he had contacts with MI5?
I know that several times boys who he had an interest in had been arrested by police and Trevor had arranged to "take care" of the arrest and ultimately got them released by saying they were assisting C-11 in their investigations. This may have been the case but I'd bet real money it was a lie and then the boys owed him.
Was TLH was involved in whatever form in Operation Circus (Operation Circus in the 1980's was an investigation into homosexual involvement in child abuse at Piccadilly Circus)….
…whilst simultaneously operating his own gay sexual favours scheme in exchange for "taking care of arrests"?
….and TLH's scam also sounds very similar also to what the anticorruption police were reported by NOTW to be investigating him for – links between gay officers and a private investigations firm and a gay sex for secrets scandal involving the police national computer.
1986 News of the World Scandal Of Top Cop And Rent Boys [1]
Was the NOTW story leaked to Marunchuk from rank and file police officers?
Did senior officers cover this up and deny it for the Press Council [14], due to the negative impact on the police and a potentially greater scandal?
What actually happened as a result of the anti corruption investigation into gay police for police computer favours scandal?  I know of no information – does anyone else?
In most police corruption investigations paperwork gets lost, the reports are never published and then "lost" and the paying public never gets to know how corrupt the Met Police actually are eg Operation Countryman [15]
Police have refused to give much information at all out about Operation Circus, which perhaps indicates it is a sensitive area that they may wish to be hidden 2013 WDTK FOI  Operation Circus [9] 2016 FOI WDTK Operation Circus [8]
Kray Twins

TLH would pick me up after work and we would drive around London in his RS2000 and talk about police work. We visited several pubs in the east end of London including a place called The Blind Beggar where he told me about the Kray twins and his contact with them.
I actually hadn't heard of the Krays or who they were but he filled in the gruesome details. At first I was fascinated by all this but as time went on I began to wonder why a senior cop would be seemingly so close to vicious gangsters like the Krays. There are some very dodgy connections there too.
At the time I thought it was a bit worrying and wanted to get out of there asap. I didn't know the East End at all and felt very out of my depth and also that I hardly knew this guy I was with. I basically trusted him because my mother had bought me up to always trust the police. I was beginning to wonder if this was a good policy.
It turned out ok though and he described how he sat across the table from one of the twins (cannot remember who he said it was) and had a calm conversation with him. At the time I thought he was brave after what he had told me about them.
Sometime later and not on this visit he mentioned that he had helped some young guy who was associated with the Krays off an arrest. I don't remember what it was he said the guy had done but he'd been caught and arrested and Trevor said he'd gone to the police station where he was kept and had him released.
Trevor had some part in the eventual arrest of the Krays or at least one of them. He said one of the twins always referred to him as Mr Hughes.
Kray Twins Convicted Lloyd-Hughes 4th left second row (undel the gel of Tintagel)
The Scotland Yard team which investigated the Kray Twins case pose on the the steps of Tintagel House, 4th March 1969. From left to right (front row) Superintendent Henry Mooney, Superintendent Don Adams, Commissioner John Du Rose, Detective Superintendent Leonard Read (aka 'Nipper' Read), Detective Sergeant Sheila Acton, Detective Constable Janet Adams; (second row) Chief Inspector Frank Holt, Detective Inspector Frank Cater, Detective Sergeant David Eager, Detective Sergeant Trevor Lloyd-Hughes, Detective Sergeant Ben Trevette, Detective Sergeant Andy Gallagher, Detective Constable George McKay, Detective Sergeant William Waite; (back row) Detective Constable Carol Liston, Detective Sergeant Algy Hemingway, Detective Constable Robin West, Detective Constable George Ness, Detective Sergeant Alan Wright. (Photo by Ron Gerelli/Daily Express/Hulton Archive/Getty Images)
So this information from Tony checks out, that TLH worked on Kray case.
What connections did TLH have with the Krays?
What part did TLH have in the Krays arrest?
Why was the young guy arrested and why did TLH get him released?
Anthony Blunt
Trevor had some connection with Sir Anthony Blunt, the Queen's art historian.  I have no knowledge of what that connection was, except that Trevor and I went to a place along Edgware Road where he went to see Blunt. It was a short meeting and he never spoke of it on the way back.
Interesting that Lloyd-Hughes knew Blunt, notorious for being MI5, and a Russian spy as well the queen's ex art historian, cousin to the queen mother and friend of Rothschilds.  Wikipedia Anthony Blunt [48]
Anthony Blunt's address was at 45 Portsea Hall,  Portsea Place until his death in 1983 which is just off Edgware Road [47] so Tony's story fits in perfectly.
                           Red Pin Placed on Blunts Address of Portsea House
Mike Lewis
Has anyone else heard of Mike Lewis?
It would be interesting to know any  more about this character who sounds seedy and  dangerous to children?
Lloyd-Hughes obviously felt safe enough to sexually assault Tony in his house.
Some relevant parts of Tony's story are included here.
…was introduced to a character by the name of Mike Lewis. I met Lewis for the first time probably around 1976/7 when I was 16 or 17.
Lewis was a creepy gay guy and someone who I probably should have avoided but he too had an interest in radios and so I spoke with him. Once I got to know him a little better he told me he had some radio kit he wanted to sell and invited me over to his house in Temple Fortune near Golders Green in North London. I reluctantly went and made it clear to him that my parents knew where I was and when I should be back home.
Lewis never tried anything on with me and I was always careful. I got to his house and noticed a rather fancy looking Ford Escort RS2000 parked nearby. I noticed it because it had a fake telescoping radio antenna. This was something the under cover police used on their cars to cover for their two way police radio so casual glances at it wouldn't show it out as a cop car.
–
After a few minutes sitting in Lewis's kitchen looking at his radios a guy who later identified himself as Lloyd-Hughes appeared in the doorway with a young boy. The boy looked very uncomfortable and shy and was being held by the arm by Lloyd-Hughes. I went on alert because I wondered who this guy was, who the boy was and why he had taken so long to appear. What had he been doing with the kid, knowing what Lewis's affections were for young boys?
–
…TLH then said he had to leave and they both departed Lewis's house.
I was now feeling uncomfortable staying at Lewis's alone and made my excuses and left. The green Ford RS2000 had gone and I correctly guessed it belonged to TLH.
–
I ended our friendship when Trevor attempted to get me into Mike Lewis's house and get my clothes off. I was probably about 18 or 19. The room had many "items" of a sexual nature in, things like collar and whip and handcuffs
–
Lewis I am told has died. I have no further information except that he apparently moved from London down to the south coast.
Dolphin Court
We often drove all over London in his [Trevor Lloyd-Hughes's] unmarked police car and on a couple of occasions we drove to the Pimlico area to a place called Dolphin Court.
We went there twice or possibly three times maximum and each time he told me to stay in the car and I was never invited up (lucky escape). He said he was visiting an elderly friend and usually spent 45 mins to an hour there whilst I waited in the car reading "Police Review". At the time I don't think there was any suspicion about the true nature of Dolphin Court and I certainly had no knowledge of what went on there.
Who was TLH visiting and why?
MI5 connection
On several occasions we filled up his RS2000 police car at a garage south of the river that I discovered was used, exclusively I was told, by MI-5 The Security Service. That location has since been demolished.
We also went to a nondescript building no more than 2 or 3 storys high not far from the south side embankment somewhere between Brixton and Vauxhall bridges I think, that was also used by MI-5. I have been told it was some kind of technical development branch. He went in, I did not.
What was Lloyd Hughes's MI5 connection?
Was he an agent for MI5 or was he being blackmailed or both?
Martin Allen
Perhaps the greatest revelations were about a boy that could have been Martin Allen.
I have drawn all the pieces together in this one section about which are about Martin Allen. I have not investigated Martins disappearance and as it is a specialist subject all of its own, I just bring this together and offer a few comments.
There are several others who have spent a long time investigating Martins disappearance and I hope they may comment or blog and analyse this new information.
For a comprehensive account of what is known to have happened see 2016 Aug 2017 Sceptic Peg MISSING: The Disappearance of Martin Allen [19]
After a few minutes sitting in Lewis's kitchen looking at his radios a guy who later identified himself as Lloyd-Hughes appeared in the doorway with a young boy. The boy looked very uncomfortable and shy and was being held by Lloyd-Hughes. I went on alert because I wondered who this guy was, who the boy was and why he had taken so long to introduce himself. What had he been doing with the kid, knowing what Lewis's affections were for young boys?
Lloyd-Hughes introduced himself just as "Trevor" at first and then introduced the boy as "Martin". I distinctly remembered this as Martin is also my middle name.
Now here is the bit you might find disturbing. The boy who I met when first introduced to Trevor, and I am absolutely sure about this, was Martin Allen.
Martin Allen went missing and as far as I know has never been found. When I first went poking around looking for information on TLH I came across all the stuff about Dolphin Court, then the Krays and then Martin Allen and suddenly a lot of pieces suddenly fell into place.
I think I missed a bullet when I allowed Trevor Lloyd-Hughes to befriend me. He was absolutely gay. He was absolutely corrupt and I have a horrible feeling he might have had something to do with Martin Allen's disappearance. When I saw Allen's photo on the internet article my skin went cold and I suddenly realised that it could have been me!
At the time TLH "tried it on" with me I was probably about 18 or 19 and I would estimate it was around the same age that I saw Martin Allen with him. Martin looked like he was a bit younger than me at that time.
Although I will leave it others who know more about Martin Allen case to analyse this new information, I just bring attention to the following
There must be a possibility that the boy Tony saw was Martin Allen and that he was sexually abused by Lloyd Hughes and/or Michael Lewis.
Was Lloyd Hughes a factor in Martin Allen's disappearance?
Was Lloyd-Hughes interviewed about his knowledge of Martin Allen?
Did Lloyd-Hughes admit his knowing Martin Allen to the investigation into Allen and /or his friend and colleague David Veness who worked on the investigation. (TLH  worked with Sir David Veness during the Iranian embassy siege, also TLH wrote a report on the Fagan break in and Veness later worked on security in the royal house. [])
Lloyd-Hughes's Death
Trevor Lloyd-Hughes died at a relatively young age 55, just at time when things seemed to be unravelling for him and possibly the Met Police or any other networks he was in.
Was Lloyd-Hughes death suspicious?
Was it "natural", was it suicide or was it induced heart attack?
Michael Fagan's Palace break in, TLH cover up and Michael Trestrail

Tony's story from TLH is that Fagan was a "rent boy" invited into the palace by Michael Trestrail for sexual purposes, and did not break in to Buckingham Palace. Lloyd-Hughes then manipulated the press into believing /printing the false cover story.
I remember Trevor once telling me about an incident at Buckingham Palace that was in the news. A guy by the name of Michael Fagan had been apprehended attempting to get in to the palace. When I spoke to Trevor about it he told me what had actually happened. According to him Fagan was a regular "guest" at the behest of Commander Michael Trestrail the Queens bodyguard. According to Trevor, Fagan was a "rent boy" and did not climb into the palace but entered with Trestrail. On this occasion he wandered off much to the alarm of Trestrail.
He was discovered in the Queens bedroom and was arrested and taken away. Trevor had some input into Fagan's case as well when it went to court. I believe Commander Trestrail was "outed" sometime after this event took place and either resigned or was kicked out.
According to Trevor the story in the press was false and concocted by him and Fagan.
The official version, which came out in dribs and drabs over some time, lacked transparency and integrity.
The commonly known version is of 2 break ins by Fagan, a month or so apart [27a]. Fagan talked to the Queen on her bed for several minutes [36] and she phoned security who despite problems eventually came after another phone call [35] .
Since it was then a civil wrong rather than a criminal offence, Fagan was not charged for trespassing in the Queen's bedroom, he was charged for stealing wine on previous visit but those charges were then dropped after psychiatric evaluation [16].
Many people were puzzled as to why Trestrail, the Queens Bodyguard, did not resign straight away despite widespread calls for him to do so. Nor did he resign on the issue of his obvious failure to protect the queen as Queens Bodyguard and head of A1 in charge of Palace security but is said to have resigned completely from the Met Police, on the issue of sex with a male prostitute over a number of years [21]
Less well known is that a "rent boy" called Michael Rauch came forward hoping to make money out of the Sun for his story [23] but the heroic Sun informed the Scotland Yard. ( I wonder what deal was made there!) This is what appears to have caused Trestrail to resign.
Chief Superintendent Trevor Lloyd Hughes also gave "evidence" about Fagan in his court case [27a]. TLH spoke out against Fagan getting bail and it was refused.
Interesting also that William Whitelaw went apoplectic over this incident [27].
Perhaps it was getting too close to home, as he had his own secrets to hide and covering up vice scandals was taking its toll in 1982 -Kincora, Elm Guest House, Fagan/Trestrail.
The official version can be discerned from a few newspapers supplied by @craftymuvva and published below in links, The Newcastle Journal [27] [27a] [28] [29] [30] [31] as well as wikipedia [38]. There will be more newspapers available on the so called "Fagan incident" soon on the child abuse newspaper archive site The Source [49].
The text of the Scotland Yard Report is available from the New York Times [35] which copped out on providing the whole truth by keeping only to the 9th Jul "break-in".
The National Archives have released papers which are available on visiting but they have not yet been digitised yet for internet release. 1982 Jul 19 – Nov 25 National Archives Security. Resignation of Michael Trestrail [32]
However the official nor commonly known narratives do not fit in with some other reports and happenings.
The Sun which apparently reported 12 visits to the Palace by Fagan [36]
Fagan himself disagrees with some of what the press said. He says that the Queen ran off and therefore he did not sit on the bed talking. "Nah! She went past me and ran out of the room; her little bare feet running across the floor" [37]
Fagan was not charged with that Buckingham Palace incident, but oddly an incident five weeks before and also with other offences.  The Police could have come up with some charge on the Queens bedroom incident – eg criminal damage for the broken ashtray, offensive weapon – holding piece of the broken ashtray in the queens bedroom. But no, no charges from that incident, almost as though the authorities did not want it aired in court.
If what Lloyd-Hughes told Tony is correct, then it appears that Lloyd-Hughes was deliberately misleading the press with false stories.
If Fagan was a "rent boy" invited to the Palace by Trestrail, and this was being covered up as a "break in" or two, then this may have proved impossible with another rent boy coming forward, which would have led to exposing Fagan as such. If the story had come out about Fagan being a "rent boy" as well it might have seemed the palace was awash with "rentboys" and/or gays, which of course it probably was. This in fact may have explain the delayed, odd then sudden resignation of Trestrail.
Why did Lloyd-Hughes mislead the press?
Was it TLH job to do Royal media queries and brief the press or was he drafted in to do this job?
What was it that was being covered up?
Police security failures?
Use of "rent boys" by Palace Police?
Use of "rent boys" by wider Police community?
Police corruption? – there had been 4 police corruption inquiries in the senventies and the last Operation Countryman only ended in 1982. The Report has never seen the light of day, hidden and destroyed by more corrupt police
Were Lloyd-Hughes and Trestrail in a wider "vice network" or were they just watchign each others back having similar sexual interests?
Fagan was a heroine dealer [37]. Was he supplying police or others in the palace with drugs?
Why did Trestrail resign completely from the Police and not just his role as Queens Bodyguard?
No doubt there are many more questions. Does anyone have answers? Comments below this blog are available for anonymous contributions.
Timeline – Fagan/Buckingham Palace Break-in (brief)

Thanks to @craftymuvva for obtaining these newspapers. There should be more up on her website soon The Source – Child Abuse Newspaper archive [49]. Some of the newspaper reports are hard to read apologies. Clicking on them should make them larger.
1948 Aug x Michael Fagan born [35]
1950 Michel Fagan born [37] 

1982 Jun 7 First Michael Fagan incident, kept quiet at the time, and for which he was later going to be charged with stealing half a bottle of wine [16]
1982 Jul 9 Michael Fagan Incident where he got into the Queens bedroom
1982 Jul 10 Fagan appeared in Court charged with the Jun 7 incident [36]
1982 Jul 12 The Home secretary, Mr William Whitelaw, told the Commons yesterday that he was shocked and staggered by the serious failure in security arrangements [36]
1982 Jul 13 Guardian Whitelaw launches Palace inquiry [36]  Mr William Whitelaw, told the Commons yesterday that he was shocked and staggered by the serious failure in security arrangements….Sun today reports that the intruder had made at least 12 visits to the Palace. He said he had already set up an urgent inquiry into the incident under Mr John Dellow, an assistant commissioner at Scotland Yard, and he had received the first interim report of the inquiry before making his statement to the Commons.

1982 Jul 19 Hansard 

1982 July 20 The Journal Newcastle on Tyne Queen's Guard in Vice Scandal  [27]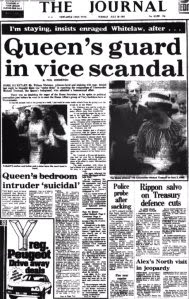 1982 Jul 20 The Journal Trestrail:the man the Queen called Michael, Fagan Held cont, and Yard Names New Man [28]
1982 July 20 The Journal Newcastle on Tyne Queen's Bedroom Intruder Suicidal [27a]

1982 Jul 20 The Journal Where will it all end? [29]

1982 Jul 21 Commons Statement [29]
1982 Jul 22 New York Times TEXT OF SCOTLAND YARD'S REPORT ON JULY 9INTRUSION INTO BUCKINGHAM PALACE [35] Head of A1 branch – Palace Security. states security was upped after Jun 7 incident!
1982 Oct c.15 Bridge Report handed to Home Secretary Whitelaw [30]
1982 Nov 24 Source? Trestrail Report 1982 [30] Report by Judge Lord Bridge published today.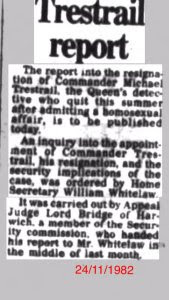 Nov 25 The Journal Once More unto the breach [31]
Trestrail Secret Double Life
1982 Jul 19 – Nov 25 National Archives Resignation of Michael Trestrail [32]
1982 Aug 13 Private Eye [23]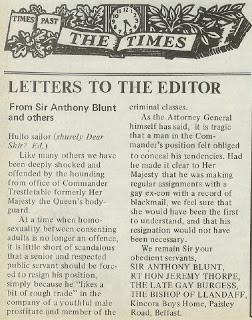 (Included due to its relevance to Trestrail but also due to its mention of Kincora Boys Home, perhaps a nod to the age of boys Trestrail was seeing?)
2004 Matt and Andrej Koymasky TheLiving Room Michael Trestrail [24]
2012 Feb 19 Independent Michael Fagan: 'Her nightie was one of those Liberty prints, down to her knees' [37]
Footman Paul Whyman offered Fagan a drink.
Fagan was a heroin dealer whose one of whose clients was a company director, the son of a lord.
Reports at the time suggested the Queen had a long conversation with Fagan to stall him while security was summoned. Fagan tells it differently: "Nah! She went past me and ran out of the room; her little bare feet running across the floor"

2012 May 31 UKJarry 413: Michael Trestrail [23]

Member of the Royal Victorian Order in 1978, a personal award of the Queen
Several years earlier met a couple of times with Michael Rauch.
Sun passed info to Scotland Yard about Rauch.
Vetting was obviously very poor
Vassall and Lavender scandals
Includes many cartoons
Timeline Trevor Arlen Lloyd-Hughes (brief)

? Trevor Lloyd Hughes born
Wife Elizabeth Linton Lloyd-Hughes
c.1969   Scotland Yard team that investigated the Kray Twins – Lloyd-Hughes 4th left back row (under gel of Tintagel)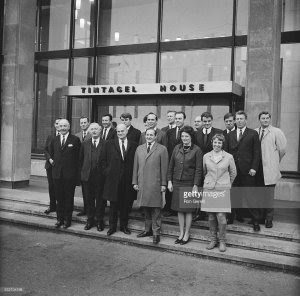 197? -1986 Lived at Blanche Lane in South Mimms near Potters Bar []
1978 – 1983/4 Tony knew Trevor Lloyd-Hughes [42]
1982 Jun 19 Elm Guest House Police raid [17]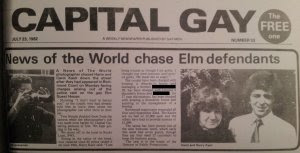 1982 Jul 8 Fagan break in [16]
1982 Jul 18 Richmond & Twickenham Times Four on Brothel Charges [52]

1982  TLH wrote the Buckingham Palace Fagan break in report, after Elms Guest House raid, but before the media started to report in August. TLH then rose in rank [11]
1984 Feb 6 Guardian Murdered Teenagers Dumped in Scoop TLH

1984 to 1988 Metropolitan Police Operation Circus concerning Kings Cross and adults using young boys  [8]
1985 TLH first heard of reports of allegations that he was homosexual. He denied this and  instructed them to sue for libel if published. [2]
1986 c May 5 TLH died
1986 May 11 News of the World Scandal Of Top Cop And Rent Boys via 2014 Spotlight on Abuse [1]