Disgraced former bishop and convicted paedophile Peter Ball tried to used his "status of confidant" with Prince Charles to boost his position, a damming report has revealed.
A major independent review found the Church of England "concealed" evidence of child abuse against Ball for more than 20 years.
He was jailed for 32 months in October 2015 after admitting to a string of historical sex offences against teenage boys and young men between the 1970s and the 1990s.
The report, Abuse of Faith, found that Ball, then bishop of Gloucester, suggested "on many occasions" to the former Archbishop of Canterbury Lord George Carey and others that he "enjoys the status of confidant of the Prince of Wales".
He "sought to exploit his contact with members of the royal family in order to bolster his position, particularly in the eyes of Lord Carey and others from whom he hoped to receive sympathetic treatment," the report says.
The review into how the Church of England dealt with the case accused Lord Carey and other senior church figures of having "concealed" reports of Ball's offences. It was revealed Lambeth Palace failed to pass on six letters of allegations of sex offences to the police.
Criticising Lord Carey's response, the report said he "set the tone for the Church's response to Ball's crimes and gave the steer which allowed Ball's assertions that he was innocent to gain credence".
The report found Ball made sure Lord Carey knew about his correspondence with Prince Charles and that he visited Highgrove House, the family residence of the Prince of Wales and Camilla, the Duchess of Cornwall in Gloucestershire.
Upon his retirement Ball, alongside with his twin brother Michael, who was also a bishop, rented a house from the Duchy of Cornwall.
But the review went on to say it "found no evidence that the Prince of Wales or any other member of the royal family sought to intervene at any point in order to protect or promote Ball".
Following the publication of the report, Lord Carey said he accepted the criticisms and apologised to Ball's victims saying he "gave them too little credence".
The Archbishop of Canterbury Justin Welby, who described the report as "harrowing reading" and decried "inexcusable and shocking behaviour", has asked Lord Carey to step down from his role as an honorary assistant bishop in Oxford following the report.
Rev Dr Steven Croft, Bishop of Oxford, has confirmed Lord Carey has "voluntarily agreed to step back from public ministry".
The report notes Ball's links with high profile and influential figures were feared by members of the public as the way the Church and other public authorities responded in the face of sex abuse allegations against the former bishop.
Along with Lord Carey, Lord Donald Coggan, the former Archbishop of Canterbury in the late 1970s, a diocesan bishop, two MPs, two public school headmasters, one former headmaster, senior staff members from another public school and Lord Justice Lloyd were among the senior figures, who wrote supportive letters about Ball when he was under investigation in the early 1990s.
Ball was placed under police caution in 1993.
Yet, the report states there was "no doubt" Ball's supporters were "unaware" of the evidence leading to the caution in 1993 or they were "convinced by his protestations of being hard done by".
It also found there is "no firm evidence that the support of prominent public figures materially affected the way that Ball's situation was handled by the Church".
http://www.independent.co.uk/news/uk/home-news/peter-ball-bishop-sex-abuse-prince-charles-links-cover-up-report-a7805071.html              https://archive.is/ClGtq
---
22nd Jun 2017
Senior figures in the Church of England "colluded" with a former bishop who abused young men, an independent review has found.
Peter Ball, who is now 85, was jailed for 32 months in October 2015 after admitting sex offences against 18 teenagers and young men.
The former bishop of Lewes and bishop of Gloucester carried out the abuse between the 1970s and 1990s
Dame Moira Gibb's review criticises ex-Archbishop of Canterbury, Lord Carey.
He accepted the criticism and apologised to Ball's victims.
The review found Lord Carey received seven letters from families and individuals following the arrest and cautioning of Ball in 1992 for gross indecency – when he stood down as bishop of Gloucester – but failed to pass six of them to the police.
He also chose not to put Ball on the Church of England's "Lambeth List", which names clergymen about whom questions of suitability for ministry have been raised.
Ball was given funds authorised by Lord Carey to support him.
Lord Carey also wrote to Ball's identical twin brother, Michael Ball – another bishop – in 1993 saying: "I believed him to be basically innocent".
'Maligned the abused'
The current Archbishop of Canterbury, Justin Welby, has asked Lord Carey to step down from his position as an honorary assistant bishop within the Diocese of Oxford.
The Bishop of Oxford, the Right Reverend Dr Steven Croft, said the archbishop had asked Lord Carey to talk to him.
"We have agreed to meet in the coming days for that conversation.
"In the meantime he has voluntarily agreed to step back from public ministry," he said in a statement.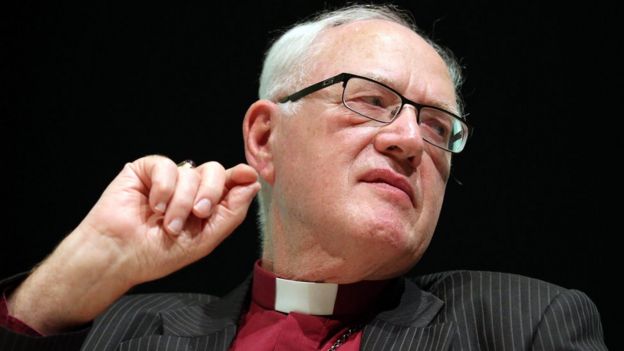 Lord Carey has apologised to the victims of Peter Ball
Ball was released from jail in February after serving 16 months.
Dame Moira, a former senior social worker, said there was a failure of the Church to respond appropriately to misconduct over a period of many years.
In her report, "An Abuse of Faith", Dame Moira said: "Ball's priority was to protect and promote himself and he maligned the abused.
"The Church colluded with that rather than seeking to help those he had harmed, or assuring itself of the safety of others."
The review found that "Ball's conduct has caused serious and enduring damage to the lives of many men… Peter Ball betrayed his Church and abused individual followers of that Church."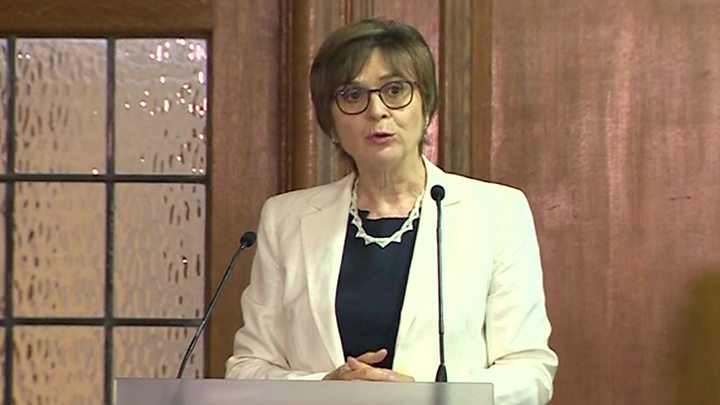 "I believe that the church has made a lot of progress but it does have more to do," says Dame Moira Gibb
In a statement, Lord Carey said the report made deeply uncomfortable reading.
"I accept the criticisms made of me. I apologise to the victims of Peter Ball.
"I believed Peter Ball's protestations and gave too little credence to the vulnerable young men and boys behind these allegations," he said.
The Gibb report makes a number of recommendations about the Church, saying it should "reaffirm and take steps to demonstrate the individual and collective accountability of bishops for the safety and protection of everyone within the church".
Lord Carey said: "I believe the Church is now willing to 'think the unthinkable'.
"I hope… Dame Moira Gibb's recommendations will make it less likely that a prolific abuser such as Peter Ball can flourish in the Church of England."  http://www.bbc.co.uk/news/uk-england-40368573    https://archive.is/e8aCU
---
Lord Carey criticised by damning report which finds Church …
Telegraph.co.uk-22 Jun 2017
Justin Welby asks George Carey to quit over church abuse report
Highly Cited-The Guardian-22 Jun 2017
Charles's friend the paedophile priest and a cover-up that shames …
In-Depth-Daily Mail-16 hours ago
Update on Peter Ball Establishment Cover-Up: FOI documents reveal   12 Jul 2016 – Prince Charles with his spiritual advisor – paedophile Peter Ball in 1992 … of Gloucester which covers Prince Charles's Highgrove Estate
Prince Charles 'wrote to padeophile bishop Peter Ball' | Daily Mail Online https://www.dailymail.co.uk/news/article…/Prince-Charles-wrote-padeophile-bishop.html  

26 Jan 2017

Jimmy Savile and Prince Charles' close friendship with sex abuse http://www.dailymail.co.uk/news/article-3265742/Jimmy-Savile-Prince-Charles-close-friendship-sex-abuse-bishop-Peter-Ball.html 8 Oct 2015 https://archive.is/V69o2 – Charles let him rent a Duchy property — Manor Lodge
Peter Ball, paedo bishop and pal of Prince Charles is free from prison https://www.thesun.co.uk/news/2782017/paeodophile-peter-ball-prince-charles-free-prison/
Church of England colluded in abuse by former bishop 22 Jun 2017 https://www.christiantoday.com/article/church.of.england.colluded.in.abuse.by.former.bishop.says.damning.report/110138.htm   https://archive.is/rHh9z
https://goodnessandharmony.wordpress.com/2015/10/10/jimmy-savile-and-prince-charles-very-close-friendship-with-sex-abuse-bishop-peter-ball/   https://archive.is/Hnvcz
---
goodnessandharmony
Aangirfan
Bishop Peter Ball may have stood in for Bishop of Truro | Plymouth http://www.plymouthherald.co.uk/paedophile-bishop-taken-services-place-twin/story-28957965-detail/story.html 

21 Mar 2016

Paedophile bishop Peter Ball 'duped congregations by impersonating  http://www.dailymail.co.uk/news/article-3503093/Paedophile-bishop-duped-congregations-impersonating-identical-twin-brother-bishop.html  20 Mar 2016
PDF Report-of-the-peter-ball-review-210617  https://www.churchofengland.org/media/3999908/report-of-the-peter-ball-review-210617.pdf