Dangerous' man missing from mental health facility
Police searching for Abdul Nabi who went missing from Midpark Hospital in Dumfries.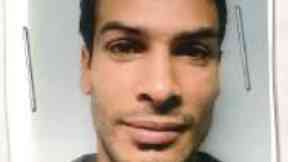 A "dangerous" man who could potentially be armed has gone missing from a mental health facility.
A major search has been launched after 30-year-old Abdul Nabi went missing from Midpark Hospital in Dumfries on Tuesday.
Officers deployed a police helicopter while searching the town's Midpark, Maidenbower, Calside and Georgetown areas.
Students at Dumfries and Galloway College were kept inside, while parents of pupils at primary schools in the area were contacted advising them to collect their children.
Members of the public as well as businesses have been told to phone 999 immediately if they see the missing man.
Inspector Rory Caldow said: "We have been carrying our a large scale search for the man since he was reported missing just after 12.30pm.
"We did have early concerns that he may have been in possession of a knife however we understand that this is not now the case.
"Mr Nabi is a vulnerable missing man and our concern for the safety of the public centres around the uncertainty of his reaction should he be approached.
"We ask the public to be vigilant and report any sightings, without making an approach to him, on the 999 emergency number."
A Police Scotland spokesman added: "He should not be approached. We deem this man to be dangerous."
Mr Nabi is described as being black, 5ft 7in, of Asian appearance, and has curly hair.
He is also said to be wearing a grey T-shirt, blue jeans and trainers.